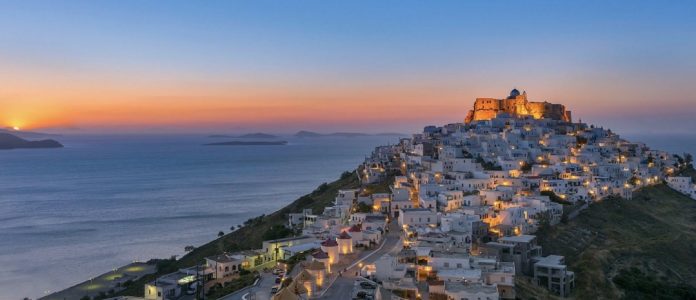 By Devashree Sanghvi, Thecrazyindianfoodie.
Nestled between the Cyclades and the Dodecanese group of islands in Greece is a spectacular jewel known as Astypalaia. With deep blue waters, rugged mountains, winding lanes, beautiful sunsets, gorgeous whitewashed houses and some of the best beaches in Greece, Astypalaia is truly the butterfly of the Aegean Sea!
Astypalea, Dodecanese, Greece. Source. 
My visit to this breathtaking island with Visit Astypaleawas nothing short of magical. Here's a brief travel guide on Astypalea, Greece:
Where to go/Things to do in Astypalaia, Greece :
1. Walk along the streets of Chora : 
Astypalaia is bejewelled by its mesmerizing Chora (capital) where you can find most of the island's activity. Built on a peninsula which is bathed by the serene Aegean Sea you can find Pera Yalos on the left and Livadi on the right.
The beautiful Chora, Astypalea, Greece. Source.
The Venetian Castle, with its two gorgeous churches, stands proudly at the tip of the peninsula being proof of the strong Venetian Influence on the island.
You can also take visit the unique infant cemetery in Hora where thousands of years old remains were buried in clay urns.
Chora with its winding streets, cute street cafes, small churches, blue and white Greek houses and beautiful windmills is a must visit!
Windmills of Chora, Astypalaia, Greece.
2. Delve into the lanes of Pera Gialos :
Walking down from Chora you can experience the beautiful settlement of Pera Yalos. Sunbathe on the beach or visit the local Museum of Astypalaia which is full of old Greek artefacts. Visit the church of St Nickolas, noticeable by its signature blue dome or eat at one of the many street cafes.
Greek Houses in Astypalea.
3. Swim in the beaches of Livadi :
Dive into the picturesque turquoise blue waters of the popular Livadi beach which is the most famous organised beach in Astypalaia! Located just 2kms west of Chora, the seaside village of Livadi has a lot to offer. From water sports to shopping, traditional Greek tavernas to vineyards, Livadi is also a great place to stay as it's the heart of Astypalea, Greece.
Livadi Beach, Astypalea. Source.
4. Drive through the spectacular Maltezana (Analipsi) :
Drive through a unique, rocky landscape to get to Maltezana full of wild beauty. The blue waters, white rocks, winding roads make for an unforgettable experience. The rocky coastline of the unique Maltezana beach has small, untouched bays that look remarkable.
The small village is full of flower studded white houses, orchards and vineyards which is lovely to walk through.
The road to Maltezana, Astypalea, Greece.
Turquoise Blue Wsters in Maltezana, Astypalea, Greece.
5. Explore the unique landscape of Vathy :
A charming fishing village with calm isolated beaches, breathtaking caves and delicious local food, Vathy is a must visit. Take a small boat ride to the Cave of the Dragon with mesmerising formations of stalactites and stalagmites that will leave you spellbound.
Vathy, Astypalea, Greece.
Where to stay/ Accommodation in Astypalaia :
From staying in cozy white Greek houses to hotels, Astypalea has a lot of comfortable accommodation options. Livadi, Chora & Pera Gialos which is a 20-minute drive from the port have multiple options to stay for all budgets. Rent your own Cycladic style homes that come with cosy, beautifully made rooms overlooking the blue sea and bits of Chora and live the Greek island life! You can walk to the nearby beaches and even to Chora which has multiple dining options.
View from an apartment in Pera Gialos, Astypalea, Greece.
Most hotels also offer spectacular breakfasts that will leave you full for hours! Rooms begin at Euro 40-50 a night.
Breakfast with a view, Astypalea, Greece.
You also have multiple Astypalaia accommodation options in Livadi where rooms and homes can be rented at affordable prices.
What and where to eat in Astypalaia:
Being a blend of Cycladic and Dodecanese cultures, Astypalaia has a unique gastronomy that will leave your taste buds extremely satisfied. From local honey to cheese, saffron to fish to pasta, the cuisine is rich and beautiful.
A Greek chef cooking local Greek food in Astypalea.
Local Astypalean cheeses are soft and mild, made from fresh dairy. Such cheeses are kopanisti, chloro (which is fresh and mild) and ladotiri (which is preserved in olive oil).
Don't miss their aromatic cookies with wild herbs which is another traditional Astypalean recipe. Locals prepare the oven with olive oil, nuts and wild thyme that is scattered everywhere on the island.
From time immemorial Astypalea produces high-quality honey and saffron which are absolute must haves.
Local Greek Pasta with Astypalea Cheese.
Both Chora & Livadi offer multiple dining options with both local and International cuisines to choose from.
I'd highly recommend Aiollos Pizza in Pera Gialos for amazing Italian Food, Maistrali Restaurant in Pera Gialos again for traditional Greek Food and Almyra at Maltezana which is a beautiful taverna.
Greek Food at Maistrali restaurant, Astypalaia, Greece.
By Plane: There are 6 flights weekly to Astypalaia from Athens. There are also 3 flights weekly to the islands of Rodos, Kos & Leros.
By Boat: There are 5 weekly departures from Piraeus (Athens- Approx. 10 hours) and Naxos and 4 departures from the other Dodecanese islands.  Blue Star ferries operates state of the art cruises making for a comfortable journey.
Overall with its unique landscape, pristine beaches, aqua blue waters, whitewashed houses, cobbled streets and delicious food the Greek island of Astypalaia is a must visit!